Stainless Steel Nameplates and Tags
Stainless Steel Nameplates and Tags
Stainless Steel Nameplates and Tags
In harsh environments where durability is crucial, stainless steel is the material of choice.  For the most durable graphic option, we recommend an etched and filled stainless steel tag. This material can also be laser marked with variable data.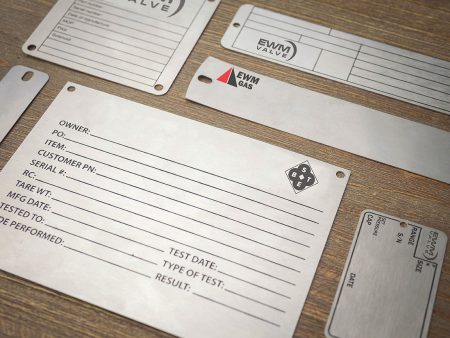 *316 and 304 stainless steel available in most thicknesses.
Common Applications for Stainless Steel Nameplates
"Tags are now the easiest things I order.  Thanks Etched for making my life easy!"
Valve Manufacturer - Louisiana
"With the environment we operate in today, it is more critical than ever to have vendors that can solve our problems in a proactive manner. We cannot be put in a situation in which a tag jeopardizes a shipment. Etched has implemented TIM (Tag Inventory Manager) in our warehouse and has completely solved the problems we previously had with our tags."
Process Industry OEM - Missouri
"We can be a difficult customer because of our erratic order patterns and demanding timelines. Etched found a way to solve that problem and has been 100% on time for 3 years straight."
Transportation Industry - Michigan
"We used to always run out of tags but since we started working with Etched over (3) years ago, we've never run out and haven't had to worry about them since."
Valve Manufacturer - Oklahoma
Ready for a better way to buy your tags?