Etched manufactures high-quality stainless steel and aluminum tags, but we don't stop there. Our product offering has expanded to better serve our customers.
Our customers come to us because they think "there has to be a better way" when dealing with their tags. Ordering tags and dealing with tag suppliers is costly and time-consuming for most companies. Etched enters into every interaction with our customers and asks "how can we make this easier for them?"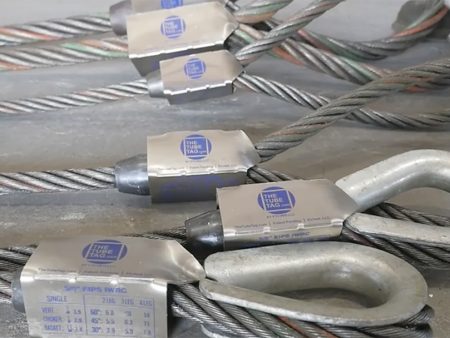 When looking for a durable tagging solution, it is difficult to beat an etched stainless steel tag. Etched stocks a variety of stainless steel in thicknesses ranging from 26 gauge through 11 gauge in both a #4 (brushed) finish and 2B finishes. Most of our stainless steel in stock is 304 stainless steel, but we do have several 316 options as well.
Lightweight and durable, aluminum is a great option for medium-to-light duty tagging applications. Etched stocks aluminum in thickness from 0.020" – 0.125".
One-way locking cable ties are made from stainless steel wire, galvanized locking body, and overmolded hex head. The overmolded hex head comes in a variety of colors to customize them to your needs. These cable ties come in either a .063" cable diameter or .125" cable diameter and 12" total length. Custom printing, including consecutive serial numbers, can be added to the hex head as well.
Common applications Include:
Many of our customers come to us looking for improvements in their tag marking process. We have partnered with Gravotech to offer our customers a wide variety of marking equipment and solutions, allowing us to help find solutions to a variety of tag marking scenarios.
The patent-pending Tube Tag gives you the durability and readability of an etched stainless steel sling tag, and combines it with the most secure attachment method ever devised for a sling tag. The Tube Tag doesn't rely on any cables or clips to keep your sling in compliance. No more down time in the field due to tags coming off the sling!
How The Tube Tag is different:

"Tags are now the easiest things I order.  Thanks Etched for making my life easy!"
Valve Manufacturer - Louisiana
"With the environment we operate in today, it is more critical than ever to have vendors that can solve our problems in a proactive manner. We cannot be put in a situation in which a tag jeopardizes a shipment. Etched has implemented TIM (Tag Inventory Manager) in our warehouse and has completely solved the problems we previously had with our tags."
Process Industry OEM - Missouri
"We can be a difficult customer because of our erratic order patterns and demanding timelines. Etched found a way to solve that problem and has been 100% on time for 3 years straight."
Transportation Industry - Michigan
"We used to always run out of tags but since we started working with Etched over (3) years ago, we've never run out and haven't had to worry about them since."
Valve Manufacturer - Oklahoma
Ready for a better way to buy your tags?