Managing Nameplates is Harder Than it Should Be...
Our mission is to make sure you never have to worry about your nameplates again. You'll find that mission carried out with every interaction you have with Etched. We pride ourselves on quick response times, clear communication, no-charge art proofs, no tooling costs, no expedite fees, and programs to eliminate stock-outs.
Experience that counts. Easy to do business with.
Our Process Makes It Easy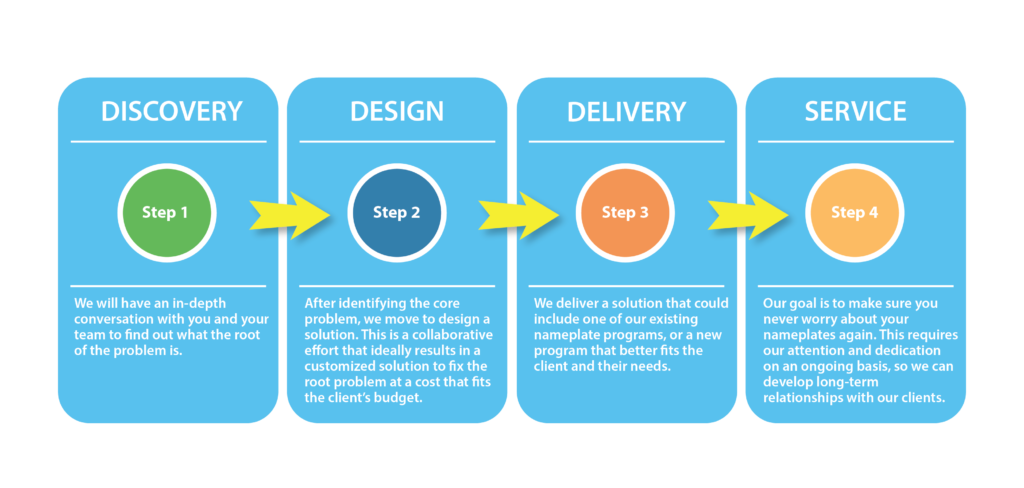 Our customers come to us because they have a unique problem that needs to be solved. We don't try to fit your unique problems into one of our standard solutions. We believe that open, transparent dialogue is critical to fixing the root cause of a problem.  With more than 40 years' combined experience, the Etched team has helped hundreds of satisfied customers through this process. We look forward to the opportunity to help you.
"Tags are now the easiest things I order.  Thanks Etched for making my life easy!"
Valve Manufacturer - Louisiana
"With the environment we operate in today, it is more critical than ever to have vendors that can solve our problems in a proactive manner. We cannot be put in a situation in which a tag jeopardizes a shipment. Etched has implemented TIM (Tag Inventory Manager) in our warehouse and has completely solved the problems we previously had with our tags."
Process Industry OEM - Missouri
"We can be a difficult customer because of our erratic order patterns and demanding timelines. Etched found a way to solve that problem and has been 100% on time for 3 years straight."
Transportation Industry - Michigan
"We used to always run out of tags but since we started working with Etched over (3) years ago, we've never run out and haven't had to worry about them since."
Valve Manufacturer - Oklahoma
Ready for a better way to buy your tags?